Floor Press with Chains
---
Play Now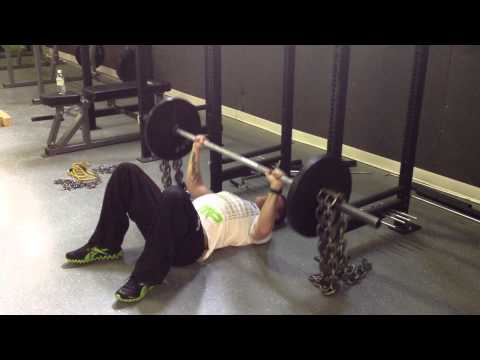 Description
---
Step 1: Set your hooks or supports up in a power rack or squat stand so that you can easily unrack the barbell and be in position to perform the press while lying on the floor.
Step 2: Drape chains over the sleeve on each side of the barbell, draping them evenly and making sure the chains also are touching the floor. These can be added on the outside or inside of the weight plates.
Step 3: After loading the weights and chains, lie on the floor with your spine in a neutral position. Position yourself on the floor so that the bar is directly over your eyes. Keep your legs on the floor, pinch your shoulder blades together and make sure your traps and upper back remain tight. When grasping the bar, wrap your thumbs around the bar and make sure your palms are facing forward.
Step 4: Keeping your elbows tucked, inhale and then unrack the weight, also ensuring your wrists remain in a neutral position. While keeping your air in, lower the weight in a controlled motion with the bar in line with your mid-to-lower chest until your triceps touch the floor.
Step 5: Pause for a split second, then press the weight back up in a straight line to its original starting position until your arms are locked out, exhaling only once the rep is completed. Keep your back and legs on the floor throughout this movement, while also making sure your shoulder blades are pushed together and your elbows are tucked.
Step 6: Take another breath between reps, exhaling only when reps are completed. Repeat until the desired reps are reached and then rack the weight in a controlled manner. Chains and/or weight can be added to the bar between sets.
Benefits:
The floor press is an excellent and ideal movement for developing your pressing muscles because you cannot use any leg drive.
Adding chains increases the weight at the top of the movement, making the lockout more difficult, which makes your triceps and pressing muscles work that much harder.
By adding additional chains to each set, the resistance gets even greater.
This adds another dimension to the floor press, which is an extremely beneficial exercise for working through sticking points in the bench press, from midpoint to lockout.
It can also help with strength off your chest because you are strengthening your pressing muscles and the majority of the work is done in the pec-building portion of the press.
Additionally, the floor press is great for lifters who have shoulder problems because of the range of motion during the lift and the more stable surface (the floor).
Summary:
The floor press is an excellent and ideal movement for developing your pressing muscles because you cannot use any leg drive.