Incline Barbell Bench Press
---
Play Now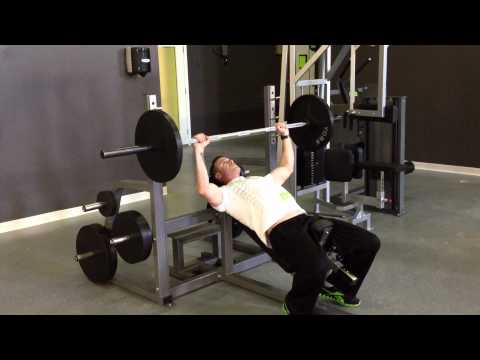 Description
---
Step 1: Set your supports on the incline bench (or in the power rack) so you can unrack the barbell and be in proper position to perform the incline press. NOTE: If you are lifting by yourself, try to set the supports higher so it is easier to unrack.
Step 2: After loading the weights, lie on the bench with your spine in a neutral position. If using an adjustable bench, have it angled between 30 and 45 degrees. Position yourself on the bench so that the bar is directly over your eyes. Keep your feet firmly on the floor, pinch your shoulder blades together and make sure your traps and upper back are tight. When grasping the bar, wrap your thumbs around the bar tightly and make sure your palms are facing forward. Use a grip that will have your pinky fingers on the rings of the barbell.
Step 3: Keeping your elbows tucked, inhale and then unrack the weight, also ensuring your wrists remain in a neutral position. NOTE: Because of the angle of the incline press, unracking the weight can be difficult and can put your shoulders at risk when heavier weight is used. Try to get a spotter to unrack the weight during this movement. While keeping your air in, lower the weight in a controlled motion with the bar in line with upper chest/collarbone area until the bar touches that area. Make sure the bar touches on your upper chest/collarbone area to ensure safety.
Step 4: After the bar touches your upper chest/collarbone area, press the weight back up in a straight line to its original starting position until your arms are locked out, exhaling only once the rep is completed. While pressing, make sure to maintain tightness throughout your lower body. Additionally, make sure your shoulder blades continue to be pushed together and your elbows are tucked to avoid unnecessary stress on your shoulders.
Step 5: Take another breath between reps, exhaling only when reps are completed. Repeat until the desired reps are reached and then rack the weight, or have your spotter help you rack the weight in a controlled manner. Weight can be added to the bar between sets.
Benefits:
The incline press is one of the best compound pressing movements around.
It is an ideal exercise for developing your chest, triceps and shoulders and when utilized properly, it can help create impressive power, strength and muscle mass in those muscles.
When using correct form, the incline press has a multitude of benefits, including building chest thickness as well.
If you are concentrating more on bodybuilding, the incline press should be your go-to compound pressing movement.
It can also be used as a supplemental exercise to the bench press, helping create power and strength in the chest and shoulder area to develop strength off the chest on a normal bench press.
Summary:
The incline press is one of the best compound pressing movements around.