Calf Raises On Steps
---
Play Now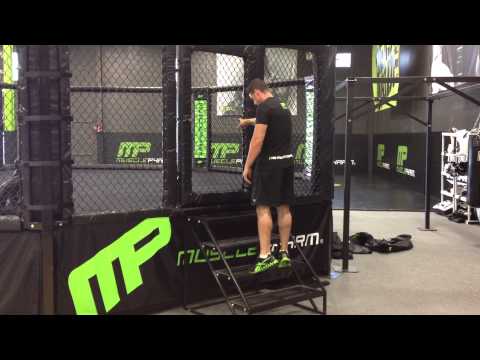 Description
---
Step 1: Grab a support with one or both arms to maintain balance. You should be standing on the balls of your feet with your heels hanging off and your knees slightly bent.
Step 2: Raise your heels in a controlled motion by extending your ankles as much as you can, keeping your knees slightly bent throughout. As you reach the top of the movement, flex your calf to reach maximum height, maintaining tightness in your back and core area.
Step 3: Once you have reached the top of the movement, pause for a second, focusing on flexing the calf, returning to the starting position in a slow and controlled manner. Remember to keep your knees slightly bent.
Step 4: Take a breath between reps, exhaling only when reps are completed. Repeat until the desired reps are reached.
Benefits:
The standing calf raise is the best way to develop muscle and strengthen your calves. By standing and concentrating solely on your calves, this movement is a premier way to add size to your calves.
Keeping your heels off the surface also ensures that the calves are doing the bulk of the work. Don't lock your knees out during this movement to ensure the entire focus is placed on the calves.
While using a support for balance, don't push off on it to create momentum, only grabbing it lightly to allow the calves to remain the focus of the raise.