Step Ups
---
Play Now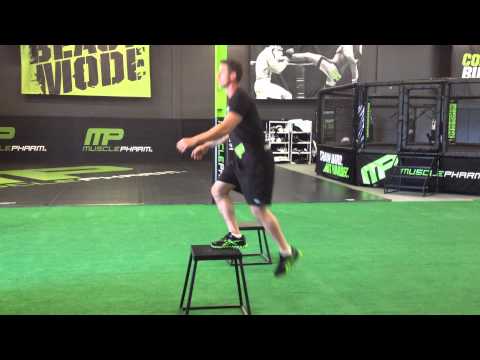 Description
---
Step 1: Place a Plyo Box about six inches in front of you. The height will depend on your strength level. Stand with your feet about shoulder-width apart with your arms by your sides. Your back and core should be tightened.
Step 2: Shift your hips back and then bend down slightly, keeping your back flat. Place one foot on the box, with your heel on the edge or hanging off slightly.
Step 3: Push off with the leg on the floor to raise your body onto the platform, pushing off with your heel. Try to avoid excessive forward movement, keeping upright, looking ahead and staying tight.
Step 4: Load the weight of your body onto the leg on the box and then step backwards to the starting position.
Step 5: Repeat until desired reps are completed and then place opposite foot on the box, continuing until your set is completed.
Benefits:
Step-Ups are a great movement to help build explosiveness in your lower body and in your legs.
The higher the box, the more difficult the movement is as well.
They are a great movement to start your workout, serving as a dynamic warm-up before heavy squats and/or deadlifts. They are also a great supplementary exercise for helping to build the squat. Weight can be added (dumbbells or barbell) for an increased challenge.