High Box Jump
---
Play Now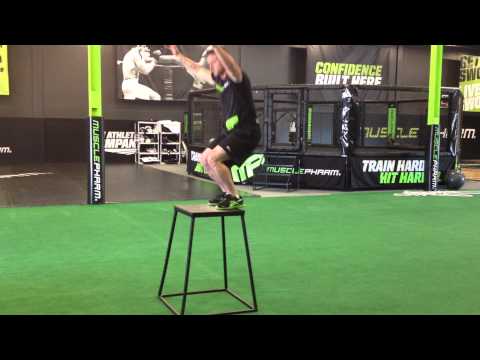 Description
---
Step 1: Place a Plyo Box about six inches in front of you and pick up a pair of dumbbells. Wrap your thumbs around the dumbbell tightly and make sure your palms are facing your body. Stand with your feet about shoulder-width apart with your arms by your sides. Your back and core should be tightened.
Step 2: Shift your hips back and then bend down, keeping your back flat. It will resemble the start of a squat, and also keep your head facing the box.
Step 3: Before you reach parallel, explode back up through your lower body, extending your hips, knees and feet as you jump. Swing your arms upward to help your explosion as well. As you jump, lift your knees up, keeping your feet level with each other.
Step 4: Try to land as softly as possible, keeping the weight on your mid-foot and heels. Do not lock out your knees and continue to keep your core tight.
Step 5: After landing, step down with one leg and then the other leg, unless you feel comfortable hopping down. Take a breath in between reps and continue until your set is completed.
Benefits:
Box Jumps are a great movement to help activate explosive muscle fibers in your lower body. The have numerous benefits including creating a more explosive and athletic body.
The higher the box, the more difficult the movement is as well. By adding weight, the movement also becomes more difficult, but it can be another benefit in creating explosive power and strength in your lower body.
They are a great movement to start your workout, serving as a dynamic warm-up before heavy squats and/or deadlifts. They are also a great conditioning movement and can be utilized as supersets or for pure conditioning.