Walking Lunges
---
Play Now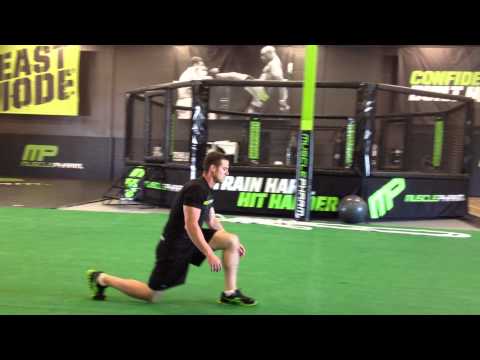 Description
---
Step 1: Keeping your body upright and your core tight, lift one foot off the floor and step forward. You should step far enough forward so that your thigh can become parallel with the floor and your back knee can touch the ground. Make sure the foot you are lunging with lands on the heel first. As you shift forward, keep your body upright, keeping the weight of your body in the center. Avoid driving your hips forward, which would cause you to lean too far forward.
Step 2: Once your heel touches the ground, lower the body until your leg is parallel with the ground. Your knee will bend, but ensure that you keep your back straight.
Step 3: After pausing for a split-second, push off the ground with your heel, straightening your leg and activating your leg muscles. Keep your foot pointing straight ahead throughout the movement. Take a step forward with the opposite leg, going directly into a lunge with the opposite leg.
Step 4: Repeat with the opposite leg on each rep, continuing to move forward in one fluid motion. Repeat until the desired reps are reached with each leg.
Benefits:
The lunge is a tremendous way to build up strength and muscle in your entire leg and especially your quadriceps muscles.
The lunge is a great supplementary movement for your legs and when done properly can really target hard-to-hit muscles on your inner leg. It is also a great exercise for developing power in the quads and glutes, which can be beneficial for bringing up your squat.
This is a great exercise for beginners, but proper form is crucial to avoid knee, ankle and leg injuries. Never let the knee drift past your toes on the lunge portion of the lift, and don't let your upper body drift too far forward during the lunge. Taking a proper step – where your leg is parallel to the floor at the end of the movement – will ensure proper technique.
Keeping your foot straight ahead will also ensure maximum benefits.
Walking lunges are a great conditioning tool, as your legs will be under constant tension.