Squats Close Stance
---
Play Now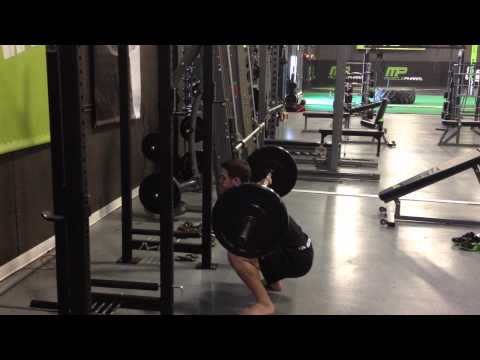 Description
---
Step 1: The bar should be at chest level before stepping under it. Step under the bar and grasp the bar with the palms facing down, wrapping your thumb around the bar. Your hands should be wider than shoulder-width and your elbows should be bent. The bar should be placed where you feel the most comfortable – either on the traps (high-bar) or just below on the back of the shoulders (low-bar).
Step 2: Before unracking the bar, fill your diaphragm full of air and tighten your core area. Keep your chest up and your lower back arched, straightening your hips and knees to unrack the bar.
Step 3: Take one step backward with either foot and then another step backward with the other foot, making sure your feet are in line. Your stance should be around shoulder-width for a close-stance squat, with your toes pointed out. Shift your weight onto your heels.
Step 4: To begin the movement, push your hips and glutes back, pushing your knees outward as they begin to bend. Your chest should remain up, looking straight ahead while your back remains tight and your lower back arched. Continue to grip the bar hard and keep your elbows underneath the bar.
Step 5: Continue to descend until the tops of your thighs are parallel or just below parallel. Reaching parallel is the minimum depth you should shoot for. As mentioned above, keep your body tight and elbows underneath the bar. Lower the bar in a controlled motion, but try not to go too slow or just drop to parallel.
Step 6: Once you reach your desired depth, return to the starting position by pushing your heels into the floor. Imagine pushing the floor away from you as you return to the starting position. Drive your elbows underneath the bar and explode up. The hips and torso should rise together, and continue to grip the bar hard while arching and squeezing your back.
Step 7: Take another breath between reps, exhaling only when reps are completed. Repeat until the desired reps are reached and then rack the weight. Heavier weight can be used between sets.
Benefits:
The squat is often referred to as the King of all Exercises and that often rings true. It is the premier movement for building a big, powerful and strong lower body, working your legs like no other exercise can.
When done correctly, the squat hits every area of your leg, allowing you to develop muscle in your quadriceps, hamstrings, calves and every other minor muscle in your leg.
There are numerous benefits to the squat, but proper form is also crucial to stay healthy and to get the most out of the exercise. It is best to learn perfect form with lighter weight, mastering the finer points of the movement before heavier weight is added.