Barbell Shrugs Rep Hold Method
---
Play Now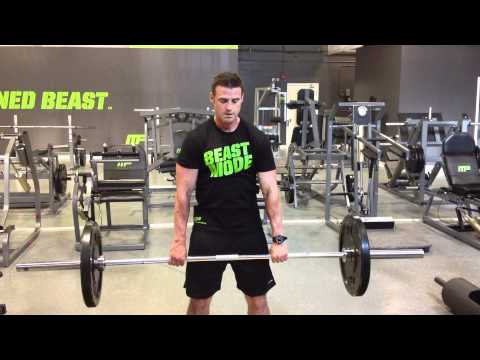 Description
---
Step 1: Set your bar in a power rack so that the bar is at slightly above knee level. Add weight to the bar.
Step 2: After setting up the weights you will use for the exercise, pick the barbell up out of the rack, keeping your arms straight and keeping the barbell close to or touching your thighs. Keep your feet firmly on the floor, pinch your shoulder blades together and make sure your back is tight. When grasping the barbell, wrap your thumbs around the bar tightly, using a shoulder-width grip. Wrist straps and chalk may also be used.
Step 3: Keeping your legs and back tight, shrug the barbell up in a straight of a line, keeping the bar close to your body. Focus on your traps and concentrate on pulling them up. NOTE: Do not roll your shoulders forward or backward AT ALL during this movement. Doing so increases the risk of injury.
REP HOLD METHOD
Step 4: After shrugging the barbell up on the first rep, hold it for one second. After the second shrug, hold it at the top of the movement for two seconds. After the third shrug, hold at the top of the movement for three seconds, adding an extra second to the hold with each additional rep. After the holds, lower the barbell in a controlled manner to the starting position
Step 5: Take another breath between reps, exhaling only when reps are completed. Repeat until the desired reps are reached and then set the barbell back in the rack. Weight can be added to the bar between sets
Benefits:
Shrugs are an excellent movement for developing your trap muscles and, to a lesser extent, your shoulder muscles. Shrugs allow you to handle a heavy amount of weight and really focus on your hard to reach trap and upper back muscles.
Shrugs can also be beneficial for helping you increase strength and power at the top of the deadlift in the lockout position. Stronger traps also help you increase your bench press and other upper-body movements.
The Rep Hold Method allows you to really concentrate on your traps, with the extra tension of the holds creating greater intensity in the movemen