Frontal Raise Quarter Rep Method
---
Play Now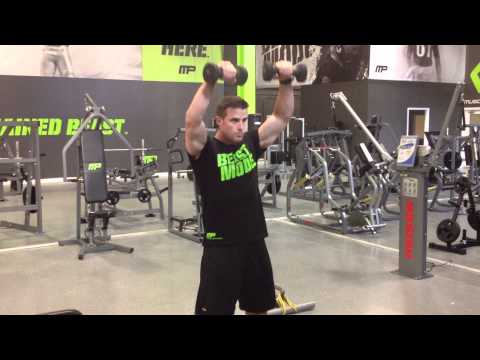 Description
---
Step 1: Pick up the dumbbells off the floor or off the rack using a neutral grip (palms facing in). When grasping the dumbbell, wrap your thumbs around it tightly. The dumbbells should be directly in front of you and touching (with your palms now facing your body).
¼-REP METHOD
Step 2: Instead of performing a full rep, only raise the dumbbells ¼ of the way up. With a ¼ rep complete, lower the dumbbells back to the starting position.
Step 3: Keeping your knees slightly bent, your arms slightly bent and your lower back tight and stationary, raise your arms in front of you until your arms are slightly above shoulder level. Make sure your elbows remain above or in line with the wrists to enable maximum benefits.
Step 4: Lower the weight in a controlled manner to starting position. Make sure to keep your torso positioned slightly forward to ensure front deltoids stay as the primary focus of the movement. Maintain a slight bend in the elbows (and in the knees) throughout the movement.
Step 6: One quarter-rep and one regular rep combined are considered one full rep on this exercise. Repeat method until all desired reps are completed.
Benefits:
The ¼-Rep Method adds even more intensity to the front raise, adding an additional quarter-rep to each full rep to create an unbelievable pump and challenge.
Using this method is a great finisher to your workout as well.