Lateral Raise 28 Method
---
Play Now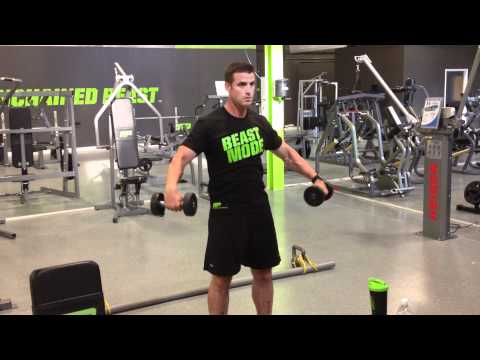 Description
---
Step 1: Pick up the dumbbells off the floor or off the rack using a neutral grip (palms facing in). When grasping the dumbbell, wrap your thumbs around it tightly. The dumbbells should be directly in front of you and touching (with your palms still facing in).
Step 2: Keeping your knees slightly bent, your arms slightly bent and your lower back tight and stationary, raise your arms to each side until your elbows are in line with your shoulders. Make sure your elbows remain above or in line with the wrists to enable maximum benefits. NOTE: You can twist your wrists very slightly down at the top of the movement to enable a greater side deltoid contraction.
Step 3: Lower the weight in a controlled manner to starting position. Make sure to keep your torso positioned slightly forward to ensure side deltoids stay as the primary focus of the movement. Maintain a slight bend in the elbows (and in the knees) throughout the movement.
28 METHOD
Step 4: Perform seven regular reps, exhaling only when reps are completed.
Step 5: Perform seven additional reps (8-14), only move the dumbbells much slower on the descent. Raise the weight slowly up, while keeping your breath in and staying tight.
Step 6: For the next seven reps (15-21), raise the dumbbells only halfway up (in line with your lower chest/upper abs), repeating for seven reps.
Step 7: For the final seven reps (22-28), lower the dumbbells halfway (in line with your lower chest/upper abs). When the dumbbells reach the halfway point, immediately raise back up, repeating for seven reps.
All 28 reps are done without rest.
Benefits:
The 28 Method is an incredible method, adding an even greater challenge to the dumbbell lateral raise. The reward is a tremendous pump and the opportunity to build your pressing muscles even more.
It takes the traditional "21" method and adds seven additional slow up and down reps, creating an even bigger challenge for your muscles.
This exercise will hammer your shoulders and is a perfect way to engorge your muscles with blood, creating an unbelievable