Military Dumbbell Press – 28 METHOD
---
Play Now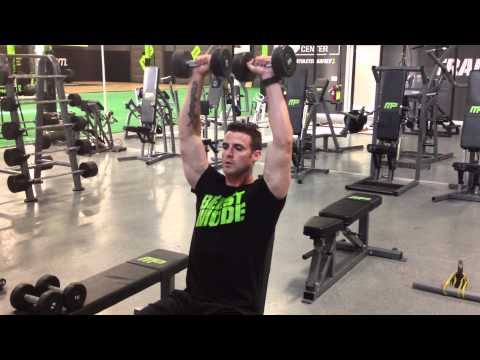 Description
---
Step 1: Place dumbbells at the end of the bench, by your feet, and then pick the dumbbells off the floor using a neutral grip (palms facing in) and, as you sit down on the bench, place the end of the dumbbell on each knee. When grasping the dumbbell, wrap your thumbs around it tightly
Step 2: Lift up each leg to give the dumbbells momentum and guide the dumbbells to your shoulder area. While rocking back, also pinch your shoulder blades together and make sure your traps and upper back are tight. Once the dumbbells are in place, place your feet firmly on the floor, keeping your lower body tight as well.
Step 3: With the dumbbells about shoulder width apart, inhale and press the weight up in a straight line, so that it ends up in line with your head at the top of the movement. Keep your elbows slightly tucked and also ensure your wrists remain in a neutral position. Throughout the press, ensure that your upper back and traps are tight.
Step 4: After completing a rep, exhale and lower the dumbbells in a controlled manner until they reach shoulder level, which is your original starting position. While lowering in a controlled manner, keep your shoulders pinched and your body tight, until the dumbbells reach shoulder level. Keep your feet firmly on the floor throughout this movement, maintaining tightness throughout your lower body and back. Additionally, make sure your shoulder blades continue to be pushed together and your elbows are slightly tucked.
28 METHOD
Step 5: Perform seven regular reps, exhaling only when reps are completed.
Step 6: Perform seven additional reps (8-14), only move the dumbbells much slower on the descent towards the shoulders. Press the weight slowly up, while keeping your breath in and staying tight.
Step 7: For the next seven reps (15-21), bring the dumbbells to your shoulders, but when pressing, only go halfway up. Your arms will still be slightly bent at this point and again descend the dumbbells to the shoulders, repeating for seven reps.
Step 8: For the final seven reps (22-28), lower the dumbbells halfway (in line with the forehead/top of head area). When the dumbbells reach the halfway point, immediately press back up, completing the rep and locking out your arms. Repeat for seven reps.
All 28 reps are done without rest.
Benefits:
The 28 Method is an incredible method, adding an even greater challenge to the dumbbell military press. The reward is a tremendous pump and the opportunity to build your pressing muscles even more.
It takes the traditional "21" method and adds seven additional slow up and down reps, creating an even bigger challenge for your muscles.
With the added difficulty of the reps, the weight you will be able to handle will be far lass than a regular dumbbell military press, so start light.
This exercise will hammer your shoulders and triceps and is a perfect way to engorge your muscles with blood, creating an unbelievable pump.
Because of that, it can be a great finisher to your workout. It can also be used as a main movement if you are focusing on high-rep movements to create a significant muscle pump.