Two Hand Cable Lateral Raise
---
Play Now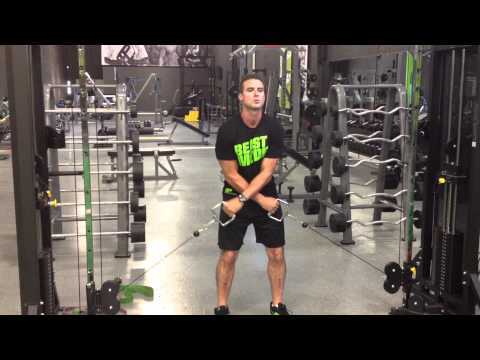 Description
---
Step 1: Attach a single handle to two low pulleys on a cable stack. Pick up the left handle with your right arm, and the right handle with your left arm using a neutral grip (palms facing in) so that the cables will be crossing during the movement. When grasping the handle, wrap your thumbs around it tightly. The handles should be directly in front of you (with your palms still facing in).
Step 2: Keeping your knees slightly bent, your arms slightly bent and your lower back tight and stationary, raise your arms to your sides until your elbows are in line with your shoulders. Make sure your elbows remain above or in line with the wrists to enable maximum benefits. The cables will cross during the movement.
Step 3: Lower the weight in a controlled manner to starting position. Make sure to keep your torso positioned slightly forward to ensure side deltoids stay as the primary focus of the movement. Maintain a slight bend in the elbows (and in the knees) throughout the movement.
Step 4: Take a breath between reps, exhaling only when reps are completed. Repeat until the desired reps are reached. When finished, set the handle on the floor. You can increase weight between sets.
Benefits:
Lateral Raises are an excellent way to build strength and muscle in your shoulders and, more specifically, your side deltoids.
Using cables for two-arm lateral raises are another great way to attack your side deltoids from a different way.
Concentrate on letting your side deltoids do the work. Imagine a string on a ceiling pulling your slightly bent arms up. Proper form is necessary in order for your side deltoids to get the maximum benefit.