Face Pulls With Resistance Band
---
Play Now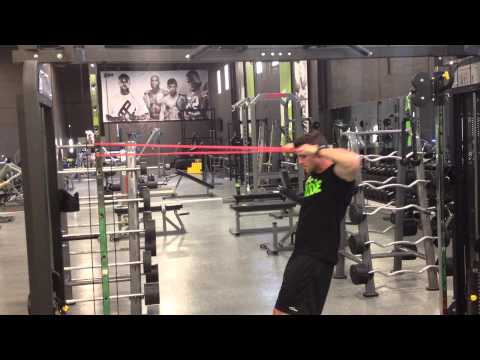 Description
---
Step 1: Wrap a mini-band (can also be a monster-mini) around a power rack, cable stack or anything stable. The band should be around eye or forehead level. It can be choked around the bar or whatever object you're using, or the band can simply wrap around it (depending on your preference).
Step 2: Take an overhand grip (palms facing the ground), slightly bend your knees and elbows and keep your back tight. Stand far enough away so that there is constant tension in the movement, even at the starting position.
Step 3: Pull the band toward your eyes, keeping your elbows as high as possible. If it helps, imagine a string is attached to your elbows and is pulling them (this helps keep the focus on the shoulders and traps, and keeps it moving in a controlled manner). Continue pulling towards eye level until your hands are close to your face or go to each side of the face.
Step 4: After you reach this point, move back to the starting position in a controlled manner, continuing to keep your elbows as high as possible, and maintaining tightness throughout your body. Even at the starting position, there should be tension in the band.
Step 5: Take another breath between reps, exhaling only when reps are completed. Repeat until the desired reps are reached and then set the band down.
Benefits:
Face Pulls are an excellent supplementary exercise for your shoulders and traps, allowing you to safely work both bodyparts.
These can be a great finishing movement and using high reps forces a lot of blood into the deltoids and traps. These are also a great exercise in helping build your bench press, hitting your traps and rear delts in a major way.
The focus should be pulling the band under control to maintain proper form and shoulder health. Do not jerk the band back, or lean back or fall forward. This takes away the effectiveness of the movement.