Wrist Curl
---
Play Now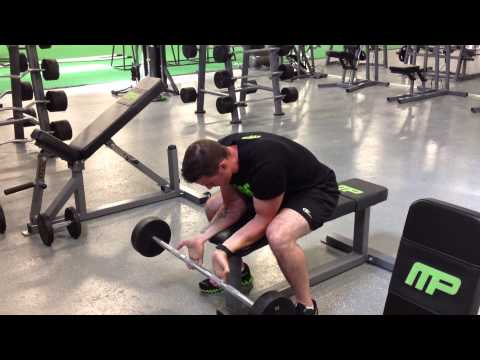 Description
---
Step 1: Pick up a barbell with an underhand grip. Your hands should be close together (inside shoulder-width). Sit on the edge of a bench with your feet together and only your thighs on the bench. While holding barbell, place your forearms on your thighs, with your wrist and hands hanging over your knees.
Step 2: Allow barbell to roll out of palm and down your hand to the edge of your fingers.
Step 3: Once it reaches the end of your fingers, curl barbell up, gripping the bar and pointing your knuckles as high as possible. Your forearms should not move during the movement, and your wrists moving is all that is needed to perform the exercise correctly.
Step 4: After pausing for a split second, slowly lower the weight to the top of your fingers again. Take a breath between reps, exhaling only when reps are completed. Repeat until the desired reps are reached and then set the barbell back on the ground. Weight can be added to the bar between sets
Benefits:
Wrist curls are a beneficial way to build strength and muscle in the forearms, which can be a difficult area to concentrate on for most lifters.
Strong forearms are necessary when deadlifting and other compound movements, so wrist curls can serve a beneficial purpose.
They are an ideal supplementary exercise after doing a bicep workout and are easy to master as well.