PVC With Kettlebells Skullcrushers
---
Play Now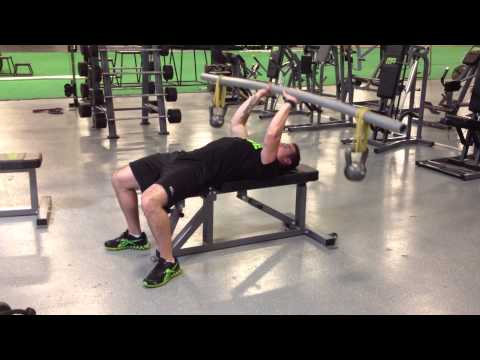 Description
---
Step 1: Loop mini-bands through weights or kettlebells and place them on the each end of the PVC pipe. Pick the PVC Pipe off the floor and lie on the bench with your feet firmly on the floor. You should have a double-overhand grip and wrap your thumbs tightly around the pipe. Your grip should be about shoulder-width. Press the weight up over your head to the starting position.
Step 2: Lower the pipe to your forehead by bending the elbows, continuing to keep your elbows tucked. Lower the pipe in a controlled manner to the starting position.
Step 2: With your elbows tucked, press the weight up until your elbows are straightened and the pipe is directly above your face with your palms facing your feet. When pressing, concentrate on using your triceps to press the weight up. Your wrists should also remain straight throughout the movement.
Step 4: Take another breath between reps, exhaling only when reps are completed. Repeat until the desired reps are reached and then place the pipe on the floor. Weight can be added to the bar between sets.
Benefits:
The skullcrusher (or lying barbell tricep extension) is one of the best possible movements for the triceps, and is one of the best exercises to build strength and muscle in the entire tricep.
It can be used as a compound movement on a day solely focused on the triceps and arms, or can be a highly-beneficial supplementary exercise on an upper-body session.
The movement can also help increase tricep strength, which can help increase your bench press as well.
Proper form is important in this exercise. Keeping the elbows tucked and in proper position is imperative to maintain elbow health.
Using a PVC pipe really stresses your stabilizer muscles and you will have to stay tight to stay in control of the weight.