Bodyweight Tricep Rope Press
---
Play Now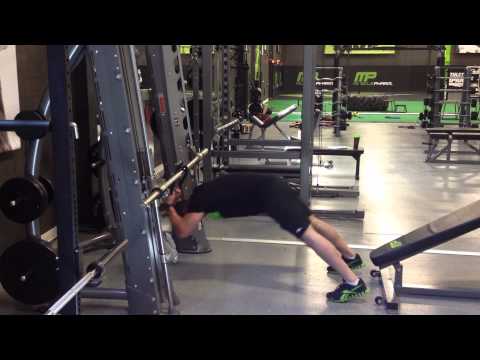 Description
---
Step 1: Set up a bar on the power rack and squat stand so it is positioned low (in line with mid-thigh). Put a rope attachment over the bar in the middle of the bar. Have your knees slightly bent and your torso leaning slightly forward and step out about a body length away from the bar.
Step 2: Bend over and go forward, and grab the attachment and wrap your thumbs around it tightly with your palms facing away from you. Your hands should be close together and keep your back and core tightened with your feet firmly on the floor. Your arms should be bent at the start of the movement.
Step 3: Keeping your elbows close to your head, straighten your arms, pressing the bar away from you and slightly up in a controlled manner. Your wrists should maintain a neutral position and continue to keep your knees slightly bent and body tight.
Step 4: Continue pressing until arms are straight, but don't lock them out. After pausing for a split-second, bend your arms and return the bar to the starting position in a controlled manner.
Step 5: Take a breath between reps, exhaling only when reps are completed. Repeat until the desired reps are reached and then let go of the bar. Weight can be increased between sets.
Benefits:
The bodyweight tricep rope press is a great movement and a great alternative for building muscle and strength in the triceps, and the bodyweight aspect of it will create the challenge.
It is also easy to learn and its simplicity and effectiveness makes it an ideal movement for anyone, regardless of their strength level and experience level.
It is a great supplementary exercise and can help develop power for the bench press. Be sure concentrate on the triceps doing all of the work.