Dumbbell Pullover
---
Play Now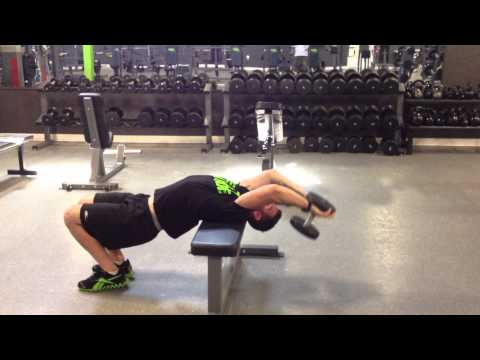 Description
---
Step 1: Grab a dumbbell and lay down on a bench so that your upper back is perpendicular to the bench. Only your upper back should be on the bench, and your knees should be bent, with your body in a straight line from your knees to your head. (Your head can be slightly off or all the way off the bench)
Step 2: Place both hands under inner plate of the dumbbell and position the dumbbell over your upper chest with your elbows slightly bent. Make sure to flex your hips during the movement (they may also rise up slightly).
Step 3: Keeping your arms straight, lower the weight in an arc behind your head until you feel a strong stretch in your chest. Part or possibly the dumbbell will be below your head at this point, and your upper arms will be in line with your torso.
Step 4: Using that same arc, bring the dumbbell back to its original starting position in a controlled manner. Hold at chest level for a split-second before repeating the movement.
Step 5: Take a breath between reps, exhaling only when reps are completed. Repeat until the desired reps are reached and then put the dumbbell down. Weight can be increased between sets.
Benefits:
The dumbbell pullover is an exercise that can target your back and chest muscles from a different angle, building a wider back and thicker chest.
It is a unique but very effective movement for developing the lats and chest. It can serve as a great substitution for a pulldown or chest fly, or if you're simply looking for variety in your workout.
It is not an easy exercise to master at first, so start with a lighter weight until you're able to sustain good form and can feel it working your chest and back muscles.