Kneeling Cable Crunches
---
Play Now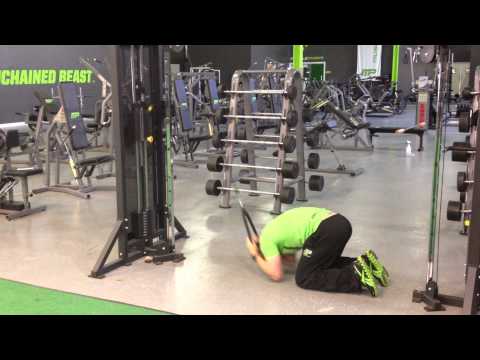 Description
---
Step 1: Kneel below high pulley or high attachment with knees close together and a comfortable distance away from machine or pulldown.
Step 2: Grasp rope attachment with both hands, keep elbows close together. Keep wrists and arms straight and firmly in place while also keeping them close to your head. Position your hips back to allow resistance on pulley.
Step 3: With hips stationary, flex abs and hips, and allow elbows to travel toward middle of thighs, allowing the weight to hyperextend your back. Exhale when your elbows reach your thigh, contracting your abs for a second at the finish of the movement.
Step 4: Allow the weight back up and repeat the motion for desired reps. Reps and/or weights can be increased between sets. It is important to keep constant tension on the abs throughout the movement.
Benefits:
The kneeling cable crunch is a great movement to hammer your abs from a different angle.
The main part of the movement occurs in the waist, and that is where your concentration should be when performing the exercise. Do not use too heavy of a weight that transfers the workload to your lower back.
By keeping the concentration on your abs, you can create an excellent movement that hits nearly every angle of your abdominals.
Staying tight throughout and flexing your hips can make a big difference in this movement. Doing so will allow for great benefits that other ab exercises cannot utilize.