Decline Situps Side to Side
---
Play Now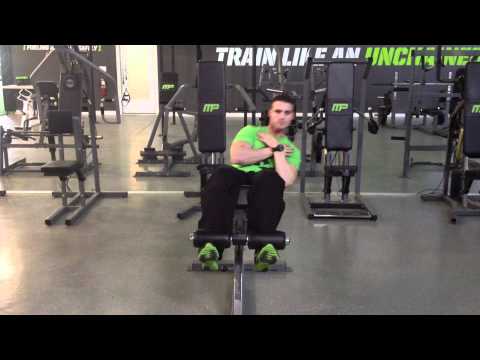 Description
---
Step 1: Sit on decline bench with legs secured under padded bar. Place hands behind your head with your elbows pointing out.
Step 2: Lower body until it is flat on decline bench and hips are nearly extended.
Step 3: To raise body, flex hips and abs, keeping your upper body tight and lower back arched as much as possible.
Step 4: Instead of going straight up, turn waist as you are raising your body so that elbow turns to opposite knee. For instance, if turning to your left, right elbow should turn towards left knee. Upon completion, lower body under control.
Step 5: Raise body and turn to opposite knee, alternating sides with each rep. Maintain tightness while performing the side-to-side movement. Repeat until desired reps are completed, alternating sides with each rep.
Benefits:
Decline side-to-side sit-ups are a great way to target your obliques. Decline sit-ups are always a challenging ab movement, and adding a side-to-side variation at the top of the movement enhances the difficult and provides great variety as well.