Stick Twists
---
Play Now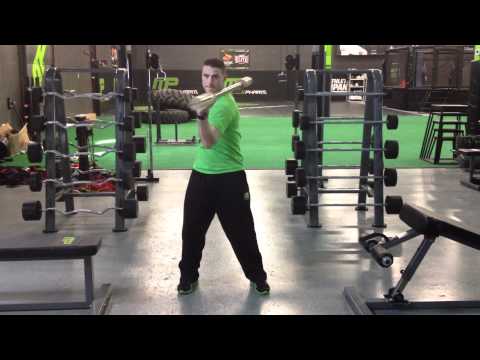 Description
---
Step 1: Sit on flat bench with legs firmly on ground. Place broomstick on back of shoulders and place hands over each side of the broomstick with your arms extended. NOTE: These can also be done standing up.
Step 2: Rotate your torso through your waist – think about twisting your bellybutton – to one side and then to the opposite side. Your head should never move throughout the twisting motion, and your hips should be facing the entire time.
Step 3: While keeping tight throughout, continue to twist from side to side until desired reps are completed. Your feet should stay firmly planted as you twist from side to side. Going from one side to another is considered one full rep.
Benefits:
Broomstick twists are an excellent movement for your core region and can add great variety for your core workouts.
The constant twisting motion also keeps constant tension on everything from your abs to your spine and lumbar region. Focus on keeping a good pace throughout the twisting motion, but not going so fast that your body doesn't stay tight.
The nature of the movement also allows for a high number of reps for each set, which is great for adding muscle and definition to this region.