Flat Bench Weighted Full Situp
---
Play Now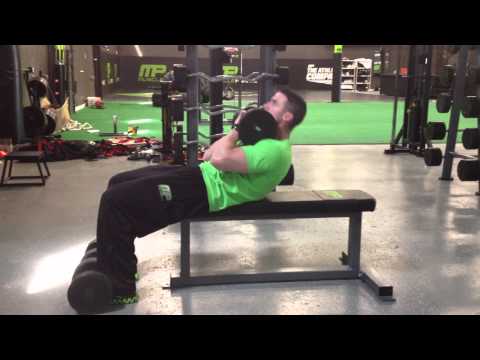 Description
---
Step 1: Sit on flat bench with legs firmly on ground. Place dumbbell under your chin, holding it up with both hands. Your palms should be facing you and keep your elbows tucked throughout the movement.
Step 2: As you begin your descent to the bench, round your back slightly, keeping constant tension on your abdominal region. Keep your abs tight throughout the descent to also ensure safety during the movement.
Step 3: Lay back fully on the bench, pausing for a split second when your upper back and head touch the bench.
Step 4: To begin ascent, round your upper back slightly again (keeping your spine the same way it is upon returning to the bench), and flex your hips and abs to complete the movement. Keep your head high and chin up throughout the movement.
Step 5: Exhale after each rep, continuing until all reps are completed for the set.
Benefits:
Flat Bench sit-ups with weights are a great way to build strength in the abdominal region because of the added resistance of weight.
Technique is imperative in this movement because of the increased difficulty of the movement with the dumbbell involved.
On the way down, the spine must return to the bench as the same way as it comes up off the bench at the start of each rep.