Hanging Knee Ups
---
Play Now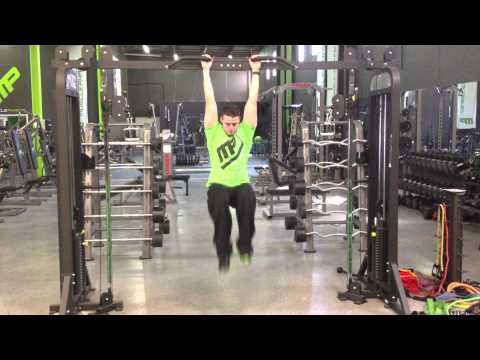 Description
---
Step 1: Grip the bar with your hands around shoulder width apart. If you are worried about your grip giving out first, use wrist straps and wrap them around the bar.
Step 2: While keeping your arms slightly bent and keeping your upper body tight and as stationary as can be, slowly raise your knees up, keeping your legs together and bend.
Step 3: Continue to move your knee up slightly above waist level, pausing for a split-second at the top.
Step 4: Lower your knees back to the starting position in a controlled manner, continuing to keep your upper body stationary and tight. Once your body returns to its starting position, exhale and then begin the next rep. Repeat for the desired amount of reps.
Benefits:
Hanging Knee Ups are one of the premier movements for your entire abdominal region, and they do a great job of targeting your lower abs, which can be difficult to target on other ab movements.
By using a controlled movement with your legs, constant tension is kept on your lower abs. Keeping knees bent adds a tremendous amount of tension to your abs and core and is an ideal movement to strengthen this region. It is also great for beginners who have abs not strong enough to handle hanging leg raises.