Bicycle Crunches
---
Play Now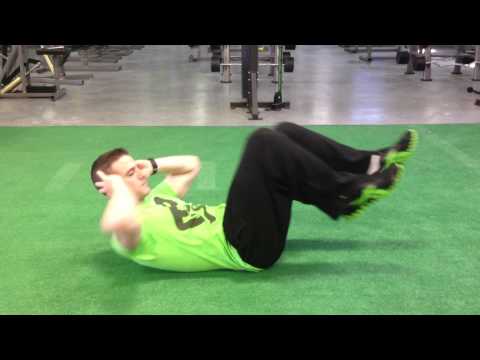 Description
---
Step 1: Lie flat on your back. Bring both feet off the floor with your knees bent and your feet straight in the air. Your thighs should be vertical to the floor and your hands should be behind your neck.
Step 2: After exhaling, begin your first rep. Contract your abdominals and bring your head and shoulders slightly off the floor. Bring your left elbow off the floor, moving it across your body to your right knee. Your left leg will straighten during this part of the movement as well.
Your lower back will be pressed into the floor.
Step 3: Continue moving until your elbow makes contact or comes close to your opposite knee. After holding for a split-second return to the starting position and repeat on the opposite side.
Step 4: Perform each full rep in a controlled manner, completing the desired number of reps until your set is finished.
Benefits:
Bicycle crunches are a great ab movement, adding a continuous motion to regular crunches to give a cardio aspect to them as well.
While performing this movement, make sure your hands don't push your head forward. They should rest gently on the back of your head.