Weighted Crunches
---
Play Now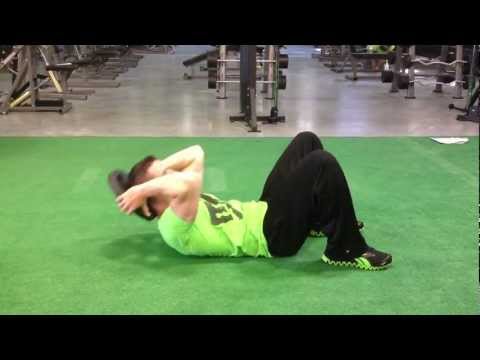 Description
---
Step 1: Lie flat on your back. With your knees bent, secure your feet so that they are able to remain stationary throughout the movement. Place the weight behind your head with the hole in the plate resting on the back of your head.
Step 2: After exhaling, begin your first rep. Contract your abdominals and bring your head and shoulders off the floor. Your lower back will be pressed into the floor, but will rise slightly off the floor at the end of the movement.
Step 3: Continue moving until your upper body is nearly vertical to the floor. Do not tuck your chin and, after a short pause, return to the starting position. Keep your upper body tight and keep the weight secured behind your head. This constitutes one total rep.
Step 4: Perform each full rep in a controlled manner, completing the desired number of reps until your set is finished.
Benefits:
Crunches are a solid and basic ab movement and a go-to exercise when hitting the core area. They are a great way to build strength and muscle in your abdominal region and adding weight is an ideal way to build resistance and increase strength.
Your legs should be secured, but make sure they don't pull your body up. Instead, focus on flexing your hips and waist in order to place the sole focus on the abs, and have them do all the work on the movement.