Wide Grip Pull-ups
---
Play Now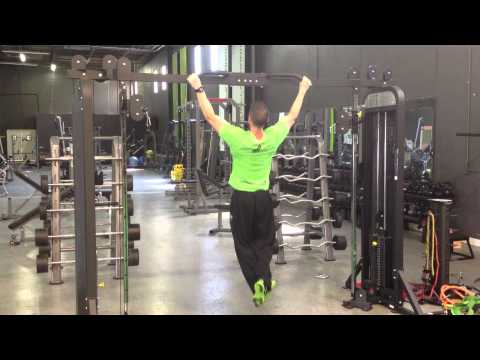 Description
---
Step 1: Stand under the chin-up bar with your arms straight up and your palms facing forward.
Step 2: With a slight arch in your back, grasp the pull-up bar tightly with your palms facing forward and arms much wider than shoulder-width apart. Your thumbs should be wrapped around the bar, while your arms should remain straight and your shoulder blades pulled back.
Step 3: Maintaining tightness in your core region, while also keeping a slight arch in your lower back, pull up, bending your elbows until the bar reaches your chest. You may lean back slightly, but try to main upright and drive your elbows toward the floor as you pull the bar down. Keep your legs bent while doing the movement.
Step 4: Hold your chest at the bar for a split-second (squeezing your back and lats), and then slowly return to the starting position. You should feel a stretch in your lats when you reach the starting position, and a stretch as you do each rep. Remember to not let your back arch too much, remaining as upright as possible throughout the rep.
Step 5: Take another breath between reps, exhaling only when reps are completed. Repeat until the desired reps are reached and then let go of the bar at the starting position.
Benefits:
The Pull-up is a marquee movement it comes to building muscle width and muscle thickness in your back because they do a great job of hitting all the key areas in the back.
The constant tension on your back can develop your lats in a major way, increasing width and also thickness in the middle of your back. This is also a great movement for someone who has already developed lat strength by using the lat pulldown machine and wants a greater or different challenge.
Be sure not to swing or jerk when performing a pull-up, as that takes the focus off the lats, which is the primary focus of the movement. There should be constant tension and a constant stretch on the lats throughout the movement, and that is negated if the rep is completed with a swinging motion.