Sumo Deadlift
---
Play Now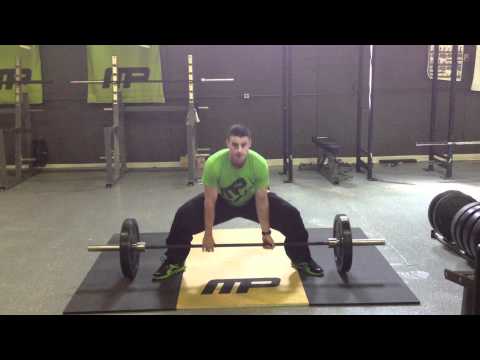 Description
---
Step 1: Stand behind the bar with your feet outside shoulder-width (how wide you go depends on your preference and comfort level), with your toes slightly pointing out. The bar should be in front of your shins, but not touching them at this point, with the balls of your feet under the bar.
Step 2: Squat down to the bar, firmly grasping the bar inside of the knee, at the very edge of the knurling. You can use a double-overhand grip (both palms facing out) or a mixed grip (one palm facing you) depending on preference and the weight being used. Your shoulders should be pulled back as you tighten your upper back, and your shoulders will also be over the bar. Keep your chest up, butt down and your lower back arched as you grasp the bar and get into the starting position. You should also be looking straight ahead with the weight of your body on your heels.
Step 3: Before lifting the bar, fill your diaphragm full of air, keeping tightness throughout your body. Begin to pull the bar by easing pressure into the bar, not jerking the bar off of the floor. Squeeze hard with your hands and squeeze your butt, initiating the movement with your legs.
Step 4: Once you've started the pull, straighten your knees, pulling back and onto your heels. The bar should not be out in front of you and should remain close to your body at all times. After the bar passes your knees, push your hips through to complete the lift. While your shoulders pulled back, you should be standing erect with your knees locked.
Step 5: After pausing for a split-second at the top, lower the bar in a controlled motion, bending the knees and keeping the weight on your heels. Keeping an arch in your back, lower your hips until the weight touches the ground. Imagine that there is an object between your shoulder blades throughout both phases of the movement.
Step 6: Take another breath between reps, exhaling only when reps are completed. Repeat until the desired reps are reached and let go of the bar. Heavier weight can be added in between sets.
Benefits:
When it comes to premier strength movements, there are few greater than the deadlift, which is an outstanding exercise for building up muscles and strengthening everything from your lower back, hamstrings and glutes to your quads, traps and even calves.
In fact, when done properly this can work everything from your traps to your calves and every muscle in between, making it one of the most beneficial exercises you can do.
Sumo deadlifts are a good way to shorten the stroke of the movement, and can either be used in place of conventional deadlifting or as a supplement to it.
Deadlifts can be used as a primary movement on max effort or lower body days, or it can also be used as a supplementary exercise if you are wishing to use high reps.
Proper form is imperative on a complex movement like the deadlift and it should be perfected until heavier weight is used.