Wide Stance Good Morning
---
Play Now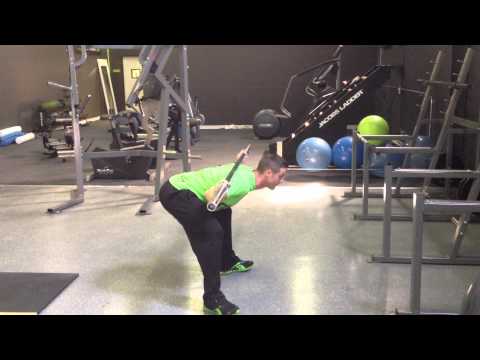 Description
---
Step 1: Set-up under the bar, putting the bar lower on your back than a squat but still keeping it on your upper back. Unrack the weight and to get set up, take a wide stance, with your feet outside shoulder-width apart with your knees slightly bent. If this is not comfortable, you can widen your stance. Also keep your chest up as much as possible. This is the starting position.
Step 2: Keeping very tight, arch your back and pull your shoulder blades together. Your core should also remain tight. Slowly bend forward at the waist, pushing your hips back, until your torso is slightly above parallel with the floor. Continue to keep your back arched and your head and chest up
Step 3: After pausing for a split-second, raise your torso, reversing the movement to the starting position. Continue to keep your hips pushed back and your back arched – with your chest up – while you complete the motion to the starting position.
Step 4: Take another breath between reps, exhaling only when reps are completed. Repeat until the desired reps are reached and rack the weights. Heavier weight can be added in between sets.
Benefits:
Good Mornings are a premier exercise for building up muscles and strengthening your lower back, hamstrings and glutes.
This exercise is a tremendous one for strengthening your posterior chain, which is necessary when wanting to improve on powerlifting movements like the squat or deadlift.
When this movement is done properly, it can work everything from your traps to your calves and every muscle in between. This can be used as a primary movement on max effort or lower body days, or it can also be used as a supplementary exercise after squatting or deadlifting.
Remember to push your hips and glutes back throughout the movement, keeping your chest up and looking straight ahead.