Good Mornings With Band
---
Play Now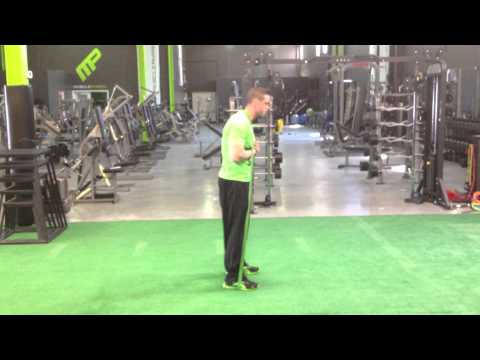 Description
---
Step 1: Begin by stepping on a band with both feet, keeping your feet slightly inside shoulder-width apart. The band should be centered under your shoes, and your knees should be slightly bent.
Step 2: Place the other end of the band around your neck (you will have to bend over to do this). Grab the band with both hands, with your hands level with your thighs. Your back should be flat and level with the floor. Also keep your chest up as much as possible. This is the starting position.
Step 3: Keeping a very slight bend in your legs, and keeping your glutes and hips back, raise out of the bottom. The tension in the bend will increase as you get more upright. Continue to keep your chest up and look ahead as you stand up as much as possible.
Step 4: After you reach the top of the movement and you are nearly straight, hold for a split-second at the top. From there, return to the starting position in a controlled manner, making sure you are aware of the band tension on the way down.
Step 5: Take another breath between reps, exhaling only when reps are completed. Repeat until the desired reps are reached and remove the band from around your neck. Heavier bands can be used on next sets if desired.
Benefits:
Good Mornings are a premier exercise for building up muscles and strengthening your lower back, hamstrings and glutes.
With bands, it's a great way to learn the movement without using heavy weight but still getting great benefits for your lower back, hamstrings and glutes.
Band good mornings are also great for prehab/rehab work for an injury to this area, or as a perfect way to get these bodyparts warm for a squat and/or deadlift movement.
Remember to push your hips and glutes back throughout the movement, keeping your chest up and looking straight ahead.