Plyo Pushups
---
Play Now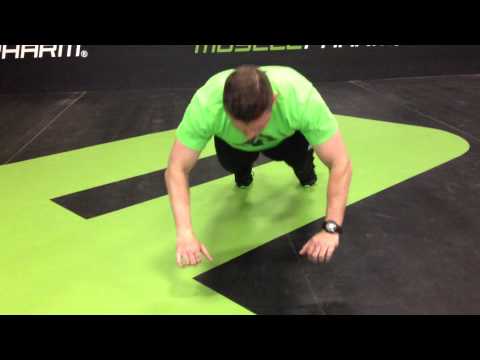 Description
---
Step 1: Place your hands and feet on the floor with your hands under your shoulders or slightly wider, and your heels in the air. Your fingers should be facing forward and your legs should be straight.
Step 2: Pull your shoulder blades together, tighten your abs and keep lower body tight and stationary. Bend the elbows, keeping them slightly tucked, lowering your body to the floor. Keep your torso tight, not allowing your back to round.
Step 3: Lower yourself until your chest or chin is close to the floor, staying tight and keeping your body tight and not rounded.
Step 4: After a brief pause, press upward, straightening the elbows and pressing hard enough so your hands leave the floor in an explosive manner. Land back on your hands and immediately start descent to the floor to the starting position, remembering to explode up so that your hands leave the ground on each rep.
Step 5: Exhale at completion of rep and continue until the desired reps are reached, pausing momentarily at the bottom of each push-up. Maintaining tightness throughout your body (keeping it as parallel to the floor as possible) and keeping your elbows slightly tucked are a big priority with this movement.
Benefits:
The pushup is a great movement for a variety of reasons. It's extremely beneficial to your upper body strength, can build considerable muscle and is easy to master and perform no matter where you are.
By adding in a plyo movement and pushing hard off the ground, you can increase your explosive strength, which can be a great benefit for a number of exercises. The plyo nature can also give them a conditioning effect as well.
Pushups are also a great tool for increasing bench press power and improving your strength in the chest, triceps and shoulders.
Because of the convenience of the movement, pushups can be done anywhere, making them a go-to move when a lifter is traveling or short on time.