Incline Dumbbell Fly 4 Count Stretch At Bottom
---
Play Now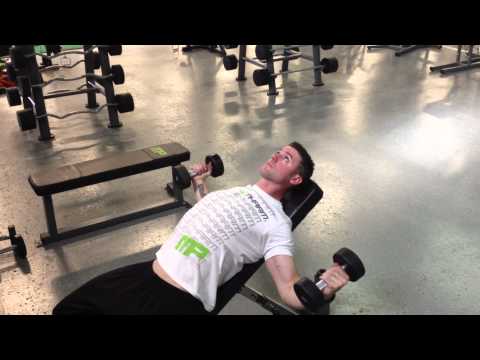 Description
---
Step 1: Place dumbbells at the end of the bench. Pick the dumbbells off the floor using a neutral grip (palms facing in) and, as you sit down on the bench, place the end of the dumbbell on each knee. When grasping the dumbbell, wrap your thumbs around it tightly. Have your bench angled between 30 and 45 degrees.
Step 2: To get into position, rock back slightly, lifting up each leg to give the dumbbells momentum. Guide the dumbbells back to your shoulders/upper chest area and push the weight up into position. While rocking back, also pinch your shoulder blades together and make sure your traps and upper back are tight. Once the dumbbells are in place, place your feet firmly on the floor, keeping your lower body tight as well.
Step 3: With the dumbbells about as wide as your armpits and in line with your eyes, bend your arms slightly and spread the dumbbells in a wide arc until level with your shoulders and chest. Maintain tightness in your back to ensure the movement is focused on your chest. With the 4-COUNT STRETCH, keep the dumbbells at the bottom of the movement for 4 seconds, enabling a deep stretch.
Step 4: Keeping your elbows slightly bent, return the dumbbells to their starting position, keeping the same arc. Concentrate on using your chest to move the dumbbells back to their original starting position. The movement will resemble a hugging motion on an incline.
NOTE: On the descent and pressing portion of the movement, your palms can either be facing forward or facing in depending on preference. If your palms are facing each other, you can also twist the dumbbells at the top of the movement, causing a bigger contraction of your chest muscles.
Step 5: Take another breath between reps, exhaling only when reps are completed. Repeat until the desired reps are reached and then swing the dumbbells back onto your knees before placing them on the floor.
Benefits:
The incline dumbbell fly is a great movement for building muscle on the upper chest.
The path of the dumbbells on a fly ensures a great stretch and contraction, helping build definition in your chest, while also building muscle in your chest, shoulders and triceps.
The 4 COUNT STRETCH METHOD adds greater time under tension during the stretch portion of the movement to give your chest a great pump and stretch.
This a great supplemental exercise when working chest movements.