Chest Machine Fly With 4 Count Hold At Top
---
Play Now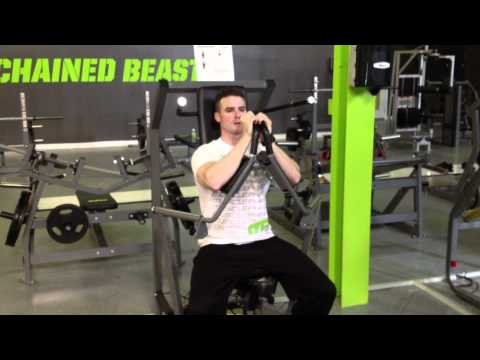 Description
---
Step 1: Sit in the chest fly machine so that your hands are close to eye level (adjust seat if necessary). When grasping the fly levers, your palms should be facing each other. Firmly plant your feet on the ground and keep your back firmly pressed against pad, sitting as upright as possible.
Step 2: There should be a slight stretch at the beginning of the movement and continuous tension on the chest throughout the exercises. To perform the fly, squeeze your chest and bring both levers together. Your arms should be bent and the chest should be doing the majority of the work. Imagine your elbows trying to come together to try and create more tension on your chest.
FOUR COUNT HOLD
Step 3: When the two levers meet in the middle (it should be in line with the middle of your chest), hold at that point for 4 seconds, creating increased tension on your chest. Imagine trying to push your hands together to create maximum tension for your chest.
Step 4: After the 4-second count, return levers to starting position in controlled manner. Remember to keep your arms bent, your feet firmly planted on the floor and to remain as upright as possible.
Step 5: Take another breath between reps, exhaling only when reps are completed. Repeat until the desired reps are reached. Weight can be increased in between sets.
Benefits:
The chest fly is a great movement for your pressing muscles and is a great complimentary movement to other pressing exercises.
The path of the fly machine ensures a great stretch and contraction, helping build power and strength off the chest, while also building muscle in your chest (especially the inner chest), shoulders and triceps.
The 4 COUNT METHOD adds greater time under tension during the finishing portion of the movement to give your chest a great pump.
This can a great supplemental exercise when you are focusing on chest movements.