Sissy Squats
---
Play Now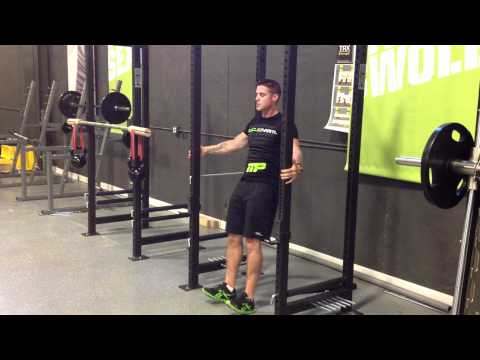 Description
---
Step 1: Take a shoulder-width stance with your toes pointed slightly out. With both hands, grab bars on power rack or squat stands around hip level or slightly higher. These will only be used to keep you balanced.
Step 2: Keeping your hips and waist straight, and keeping your core and back tight, bend your knees, pushing your knees down and forward and your body falls backward on the descent. Your heels will come up off the floor as your knees come down, but the front of your feet will remain on the ground.
Step 3: Continue lowering knees until they are flexed or nearly touching the floor. Your lower legs will be parallel to the floor at this point and you will be looking up as well.
Step 4: Pause for a split-second and then return to the starting position in a controlled manner, pushing through the floor as your legs straighten and your heels return to the floor. You will be standing up straight and looking forward at this point.
Step 5: Take a breath between reps, exhaling only when reps are completed. Repeat until the desired reps are reached.
Benefits:
The name is deceiving, but the sissy squat certainly isn't for wimps.
This can be a brutally difficult exercise to do, but when done correctly, the sissy squat hits your quads in impressive fashion and in a way that most other leg exercises can't.
When used as a supplementary exercise, they can be extremely beneficial to strengthening and adding muscle to your quads.