Leg Extension
---
Play Now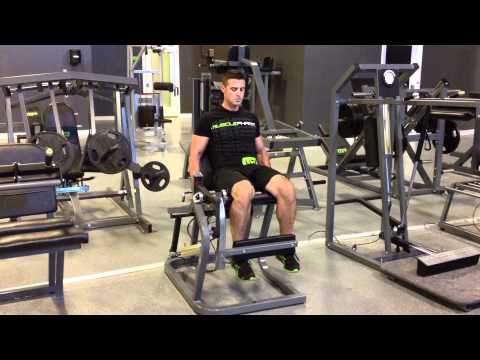 Description
---
Step 1: Sit on Leg Extension machine with your back firmly against back support. Place front of lower legs under padded lever. Your feet should be around shoulder-width apart or slightly closer.
Step 2: Grasp the handles on each side, and slightly arch your back, keeping your back tight and your upper back firmly pressed into the support.
Step 3: Move the lever upward by extending your knee until your legs are straight.
Step 4: Once your legs are straight at the top of the movement, pause for a split second. Lower the weight (lever) in a controlled manner by bending your knees until it returns to the starting position at the bottom of the movement.
Step 5: Take another breath between reps, exhaling only when reps are completed. Repeat until the desired reps are reached and then remove your lower legs from out of the lever. Heavier weight can be used between sets.
Benefits:
The leg extension is a great movement to develop your quadriceps muscle and etch in detail. It is great for experienced and beginner lifts and it is a simple exercise for everyone to master.
The leg extension can be used as a supplementary exercise or at the beginning of the workout to get your legs warm for squats, leg presses and other compound leg movement. High-rep leg extensions can provide a great pump to your legs.
Also, make sure that your legs form a 90-degree angle between the lower and upper leg to ensure safety on the exercise.
For added variety and to hit different parts of the leg, you can angle your toes inward or outward.